Dingle
The Dingle Peninsula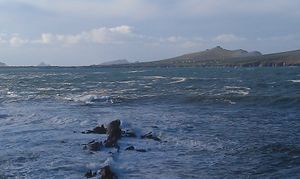 Northern Dingle.
A land of low hills and windswept beaches, and lots of sheep. The most popular activities here are Sailing, Swimming, Drinking, Laughing,Walking and Windsurfing. Arriving into this region to Dingle Town takes you through Conor`s Pass; a treeless area of majestic rugged beauty, and highest point "Over 3,000Ft" on the Peninsula.

    Western Dingle.
    The easily most visited part of the Peninsula; this region abounds with dramatic cliffs, terrifyingly breath taking drives, lovely beaches, and countless historical sites. Popular locations include; Dunberg Fort, Gallarus Oratory, Slea Head, Riasc, and Kilmakedar.

  Dingle Town.
     Located in a perfect natural harbour, this pretty town is the main hub for the peninsula. Most of the buildings date from the 1600s, and all are awash with riotous colours, as the houses slope up and down the hills on which the town is built. This is a very artsy town and a centre for many great handicrafts.

 South Eastern Dingle.
         Containing some of the most eye splittingly green scenery in Ireland, Southern Dingle is a land of rolling hills. There are a few historical sites, and a fantastic beach, great bar Foley's, and Inch. Great views of the Iveragh Peninsula across the water.

 Mount Brandon
 At 3,000 feet, this is one of Ireland's highest and most spectacular mountains, and it offers wonderful panoramic views of the ocean and surrounding country-side. There are various routes to the peak, though due to its close proximity to the Atlantic, weather conditions are unstable and prone to sudden changes. Therefore, it is advisable to check weather forecasts before setting out and to carry rain gear and other provisions. 

Slea Head.
        This magnificent head is located at the tip of the Dingle Peninsula and is the site of the most dramatic scenery in the area. Towering cliffs drop straight in the water, and the most dramatically situated beach in Ireland beckons invitingly. Great views of the Blasket Islands.

Ballyferriter
. An amazing village with great People, Bars and Music. Home to Artists, Sculptors, Potters, Woodworkers, Painters and many Musicians
 
It is possible to follow a Coastal trail to the tip of Slea Head; one of the most westerly points in Europe (excluding islands).
The Great Blasket island to the west, which were evacuated in the 1950s produced at least three well-regarded Irish language writers, the most well-known being Peig Sayers.
The Peninsula has an association with St Brendan the Navigator who sailed from Brandon on the north of the Peninsula to America, by way of Iceland and Greenland in the Dark Ages, in a corracle made of laths and hides. Tim Severin replicated this journey in the 1970s, demonstrating that the story was plausible.

Once described by the National Geographic Traveller as "the most beautiful place on earth", the Dingle Peninsula is a place of intense allure, with a plethora of green landscapes, rocky hills, long sandy beaches and staggering cliff edges. The warm Gulf Stream reaches the peninsula, giving it a wonderful mixture of sometimes rare and unusual flora and fauna

Dingle is one of Ireland's Government-protected Irish (Gaelic)-speaking areas, called "Gaeltachts". Dingle's Irish name is Daingean Uí Chúis which, to fit on signposts, is generally abbreviated to An Daingean. Despite this, everyone calls the town Dingle.

Many of the towns and villages in the region have Irish names too and, as many maps use the anglicised versions of these names.
                 Dingle Peninsula a truly amazing place...............     pk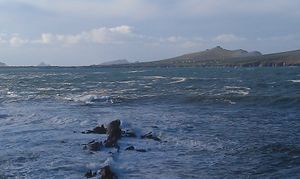 A traditional music school held in Ballyferriter on the Dingle Peninsula (Co. Kerry, Ireland) including singing and dancing workshops, concerts & sessions and much more